Joomla! 5: a Great Opportunity for Business
In the fast-paced realm of digital transformation, the release of Joomla 5 stands out as a beacon of innovation and progress. This latest iteration of the renowned open-source content management system (CMS) not only introduces cutting-edge features but also redefines the standards of usability, security, stability, and overall value for businesses. Let's explore why Joomla 5 is a game-changer for decision-makers seeking to fortify their online presence.
---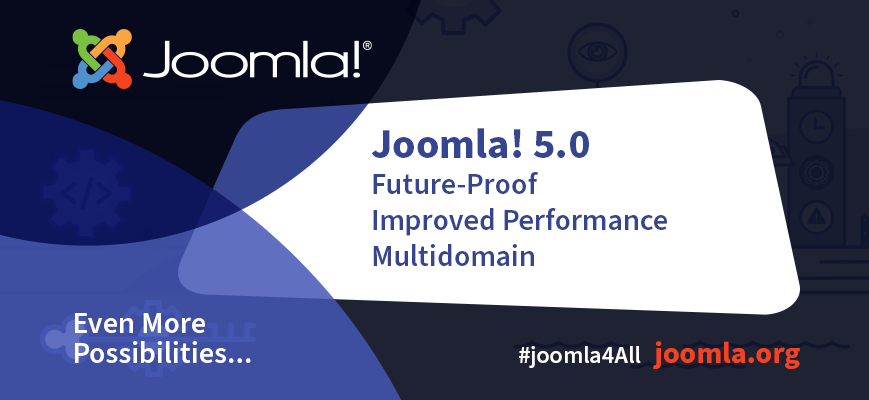 Usability: A Seamless User Experience
One of Joomla 5's standout features is its commitment to providing an unparalleled user experience. The platform has undergone a significant facelift, boasting a modern and intuitive interface that enhances usability for both novice and experienced users. Decision-makers will appreciate the reduced learning curve for their teams, as the revamped dashboard streamlines tasks and makes content management more accessible.
The intuitive content editor empowers businesses to create and update content effortlessly, fostering collaboration among teams. With a focus on user-friendly design, Joomla 5 ensures that businesses can maximize productivity without sacrificing the quality of their online content.
Security: Fortifying Digital Fortresses
As cyber threats become increasingly sophisticated, Joomla 5 takes a proactive approach to security, ensuring that businesses are shielded from potential vulnerabilities. With robust authentication mechanisms and adherence to the latest security protocols, Joomla 5 provides a secure environment for managing sensitive data.
Decision-makers can rest assured that Joomla 5's commitment to regular updates and patches will keep their websites protected against emerging threats. This focus on security sets Joomla apart, making it a reliable choice for businesses that prioritize safeguarding their digital assets.
Stability: Building on a Strong Foundation
Joomla has always been synonymous with stability, and Joomla 5 continues this tradition by building on a solid foundation. The new release incorporates updated technologies, ensuring compatibility with the latest server configurations and web standards. Businesses can rely on Joomla 5 to deliver a consistent and dependable user experience, minimizing downtime and contributing to a positive online presence.
The stability of Joomla 5 not only enhances user confidence but also provides decision-makers with the assurance that their website will perform reliably, even under high traffic conditions.
Advantages Over Other Platforms: Why Choose Joomla 5?
Joomla 5 offers distinct advantages over other CMS platforms, making it a compelling choice for business decision-makers:
Open Source Freedom: Joomla is an open-source platform, providing businesses with the freedom to customize and extend their websites without the limitations of proprietary systems.

Vibrant Community Support: Joomla boasts a large and active community of developers and users. This means that businesses can tap into a wealth of knowledge and support, ensuring that they can navigate challenges and optimize their Joomla experience.

Scalability: Joomla is highly scalable, making it suitable for businesses of all sizes. Whether you're a small startup or a large enterprise, Joomla provides the flexibility to grow your online presence seamlessly.

Security: Joomla has always set the standard for security in the Open Source arena. It's best practice approach at version development, commitment to testing and ongoing vigilance in issuing security patches is a model for other software projects to follow.
Overall Value for Business: A Strategic Choice
The fast release of Joomla 5 is not just about keeping up with the latest trends; it's about making a strategic investment in the future of your business's online presence. The enhanced usability, security, and stability offered by Joomla 5 contribute to operational efficiency, foster customer trust, and elevate the overall value proposition of your business. When the Joomla project announced the fast track release of Joomla 5 it met with a bit of dismay among Joomla developers who initially thought it was more of a token release to keep up with Wordpress, Magento and other Open Source CMS projects. However in seeing the actual release it has become clear that this milestone is once again Joomla's clear demonstration of commitment to maintaining position as the front runner in supporting innovation and growth on the internet.
In a landscape where digital presence is synonymous with success, Joomla 5 emerges as a reliable partner for businesses looking to stay ahead of the curve. Decision-makers who choose Joomla 5 are not just adopting a CMS; they are embracing a transformative tool that will propel their business to new heights in the digital era. Contact Joomstore to explore the possibilities of Joomla 5 and unlock the full potential of your online strategy.