6 weeks ago, rather than just preaching to my customers the value of Search Engine Optimisation, I decided to take a more proactive approach to SEO for this site.
Despite what many will tell you, Search Engine Optimisation (from here on called "SEO") is not rocket science.
It does take some time to get it right and with some patience, knowledge and the right tools you can be getting very good rankings and good traffic to your site.
Joomla has some great SEO tools available. I regularly use a sitemapping component (Joomap) and a Search Engine Friendly URL component (sh404SEF) in conjunction with Google Sitemaps and Analytics. One or two hacks to the Joomla code to generate certain content in <H1></H1> tags doesn't hurt either. Here's the results.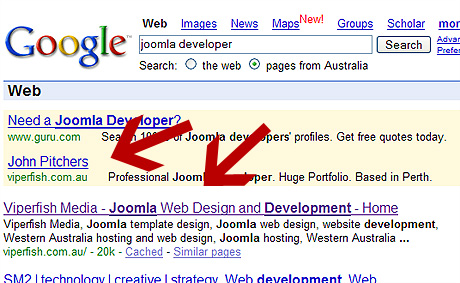 What you see here is a search for "Joomla Developer" in Australia. Now anyone can pay for an adwords campaign and get listed against any keyword they want to purchase. That's the one the first arrow is pointing at. However, Viperfish is also listed in the No.1 position in the free listings.
This has only been achieved due to the SEO work I've put into the site. It has taken about 4 hours a week to analyse the site's traffic and modify keywords and content to suit. I've also been building up the number of external links to the site.
Many of my other customers sites are getting the same results. For more examples and information on how this is achieved, please contact me.
Leave a comment