Interesting Google results 4 days in
It's only been a few days since I rolled out the new design for Viperfish. The Google stats so far are very interesting.
Now, you probably aren't very interested in my Google stats and why should you be. However, what you might be interested in is how quickly a redesign can have an impact on the performance of your website. And by performance I'm not talking about page loading times and file sizes. I'm talking about converting visitors into leads.
In my previous blog post, I described how the site had an upgrade to Joomla 1.5, a brand new design, a clean up and re-structure of content and a new portfolio on the home page. I generally check my Google Analytics reports every week or so to see what content people are viewing the most and what keywords are working.
Comparing the last 4 days results - Friday to Monday with the same Friday to Monday one month ago, we can see quite a change in activity.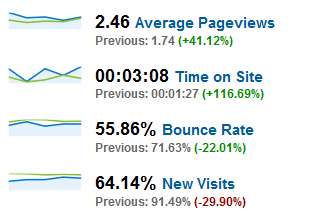 Pageviews per visit are up 41%, the bounce rate has dropped by 22% and the time spent browsing per visit is up a massive 116%. Over this same time frame, I've also received several very good enquiries which I'm sure is no coincidence.
It is highly likely that the redesign will have very little, possibly no effect on the number of hits on the site but it is already apparent that it is having a very positive affect on visitors behaviour.
With all the emphasis people put on SEO today and maximising the number of hits, this goes to show that it's also important that the user experience be one that gets the maximum from each visitor. After all, it's better to convert say 5% of 100 visitors into leads than it is to convert 1% of 200.
It will be interesting to see the results after a month or so of data. Will keep you posted.
Leave a comment